International Women's Day – 8th March
Claire H
With International Women's day just around the corner, Inclusion and Diversity are major talking points for businesses now more than ever.
Becoming a truly diverse and inclusive company is not only the right thing to do, it is crucial to help grow your business, attract and retain staff and clients.
I wanted to share a few of our top speakers on Inclusion and Diversity.
Hayley Barnard – Expert on Diversity and Inclusion, Unconscious Bias, Gender Equality and Inclusive Leadership
Hayley is a prominent keynote speaker, entrepreneur and consultant to top-level executives throughout the UK and Europe. She is a subject matter expert on Diversity and Inclusion, Unconscious Bias and Inclusive Leadership.
From trekking across the Arctic, to training to swim the English Channel and running three companies alongside a family, Hayley knows a thing or two about maintaining motivation.
Debra Searle MVO, MBE – Professional Adventurer, Entrepreneur, Gender Balance Advocate and Inspirational Speaker 
Debra first hit the headlines when she set out to row across the Atlantic with her husband.  Unfortunately he had to be rescued so Debra, a novice rower, continued alone and rowed 3000 miles from Tenerife to Barbados. It should have taken them six weeks but, to achieve her goal, Debra ended up spending 3 ½ months at sea alone, encountering 30′ waves, sharks, and force 8 squalls in her 23 foot plywood boat.
Blaire Palmer – Business motivational speaker who talks about, change and change management, leadership, agile management, digital disruption, diversity, teamwork and collaboration
Blaire is at the forefront of new thinking about what it means to lead in the 21st century. In her keynote speeches and development sessions she busts the myths of leadership and presents a more human, more authentic, more collaborative model of the leader of the future. As one of the youngest female producers of the BBC's flagship "Today Programme" Blaire spent a decade breaking stories and shaping the UK news agenda before her fascination with leadership and change led her to train as one of the UK's first corporate coaches.
Chris Holmes – A truly inspirational Paralympic champion and Director of Integration for the most successful Paralympics in history.
Lord Holmes was Director of Paralympic Integration for London 2012. Using all his political skills and strategic know-how, he famously delivered the most successful Paralympics ever. It was the same determination that had earlier helped him become Britain's most successful Paralympic swimmer of all time.
Highly principled, a gifted leader and recently appointed to the House of Lords. Chris works to improve the equality and human rights legislative framework in the UK and globally alongside the UN.
Baroness Tanni Grey-Thompson – Paralympic Legend Motivational and Inspirational Speaker
Tanni is Britain's greatest Paralympic athlete. She competed in five Paralympic Games, winning 11 Gold Medals, and won the London Wheelchair Marathon a total of six times. She is acknowledged as one of the most gifted and courageous sportswomen of her generation.
Deirdre Bounds – Inspirational Speaker Serial Ethical Entrepreneur & Bestselling Author
Deirdre has been voted as one of the North's top 100 entrepreneurs, she is recognised as being in the top 50 influencers in the region, is the Woman of Achievement in Yorkshire 2010, sits on the board of three public sector organisations, is a regular commentator on BBC Radio 2 and 5Live and was one of eight entrepreneurs chosen to travel to Africa with Channel 4 to bring an alternative view to development.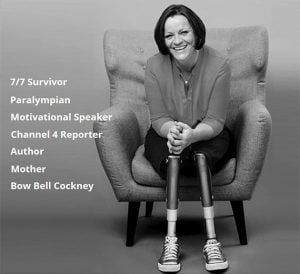 Martine Wright MBE – 7/7 survivor, Paralympic athlete, Inspirational and motivational speaker .
Martine is 7/7's most injured survivor, she lost both legs in the Circle line bombing during the 2005 terrorist attacks on the London underground, yet she considers herself a lucky woman with a whole new life of opportunities.